If you've been watching TV lately, you may have noticed that Audi
has been aggressively promoting their new flagship A8 luxury sedan everywhere, including a high-profile commercial during the Super Bowl, sponsoring the mega sports network ESPN, and even working their new car into the spotlight of the TV show Selling New York (on HGTV). So we decided to take a closer look at this car…
The 2011 Audi A8 sedan comes in two versions: the standard version and the long wheelbase L version (more room for rear passengers). A distinguishing feature of both A8 versions is the aluminum space frame, which makes the A8 lighter than its other German counterparts (BMW 7-series and Mercedes S-Class). With a 4.2 Liter direct-injection V8 engine, the A8 produces a decent 372 hp and 328 lb-ft torque. If you're in a rush to get to the hospital, it will get you from 0-60 mph in about 5.7 seconds (per Audi's estimate) and will cover the 1/4 mile in less than 14 seconds (per Edmunds.com).
The A8 sedan is driven via an 8-speed automatic transmission and gets fairly decent mileage (about 17 mpg city, 27 mpg highway) for a car weighing close to 4500 lbs.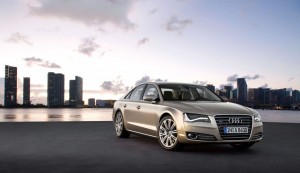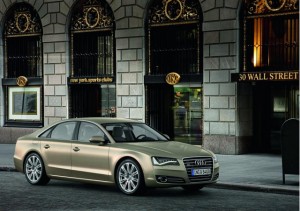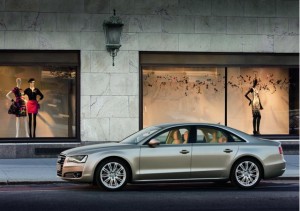 Upon further examination, this car may be the perfect "doctor's car" – one you could drive to the hospital every day, yet still be somewhat "incognito" compared to your colleagues driving their 7-series BMWs and S-Class Mercedes'.
This is a luxury sedan that says you've made it, but you're not about announcing it to the world (ok, BMW
and Mercedes
owners, are you paying attention here? 😛 ).
Here is a review of the 2011 Audi A8 by Edmunds.com:
Edmunds reviews the 2011 Audi A8 sedan
And here is the Super Bowl commercial (featuring Kenny G):
By all measures, this is a sharp-looking car and well-suited for that "leisurely" drive to the physicians' parking lot. Be forewarned though: if you show up to work in this car, your colleagues may get suspicious that you know something they don't. Our suggestion would be to just give them that Chesire cat smile as you exit the car and head into the hospital for another day's work. 🙂
Did you enjoy this post? Why not leave a comment below and continue the conversation, or subscribe to our feed and get articles like this delivered automatically to your feed reader.